As Covid-19 drama is spreading, no one really knows what the post-pandemic world will be. The only certainty is that our lives, our spends, and potentially even how we dress will change.
Of course fashion is -rightly- not considered priority: factories, warehouses and shops have closed their doors; fashion weeks and runways are being cancelled; global consumption has seen unprecedent drops and forecast are highly pessimistic. Over the past month, merchandising, buying and selling teams have been re-forcasting and shaving buys off for the next three seasons a.k.a SS20, FW20 and SS21. This is implying serious consequences not only on future assortments being drastically reduced but also major impact on supply chain workers around the world and/or smaller designer themselves being left with unpaid overstock.
We know this is a tragic time for most businesses, however looking on the brighter side of things, and as brilliantly said by the Fashion Revolution article, "for Fashion Revolutionaries, this unique set of circumstances can hopefully bring about the #LovedClothesLast movement that we have been pushing for many years. Given the level of clothing overproduction that preceded this crisis, we hope that our days indoors can bring about revolutions in caring for our clothes better, mending and making clothing, and adopting a mindset of longevity when it comes to our wardrobes."
Although I strongly support this movement, I need to be honest, I can't help myself not dreaming about my new post-confinement fantastic looks. I am finding myself deeply attracted to cute summer prints, party clothes (shoes) and I can see my (bad) shopping addict self quite often tempted to shop online.
Which is why, far from wanting to influence anyone on running to shops -whenever it reopens, or do online buys, I wanted today's article to make us fall in love again with the clothes we already have by going through "trends" we are carrying over from last year!
I've already mentioned in a previous article (here) that Spring Summer 2019 was a pioneer in terms of minimalism wardrobe and sustainability. Spring Summer 2020 does not disappoint either in that aspect highlighting commercial and wearable pieces. Another proof that we are all looking for clothes that will have a lasting impact! Hence, lots of last year's essentials will remain such as:
–
Utilitarian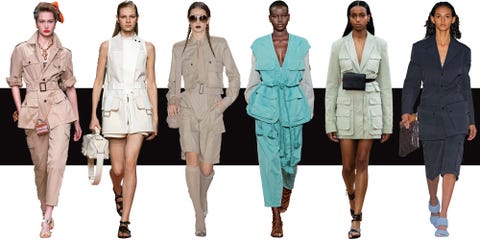 Loose shapes and pockets are still a must, they keep on being reinvented in newer looks but using the same old basics: cargo pants, cyclist shorts, denim, cardigans, bermudas, trenches, parkas… all of these intemporal pieces that you surely owned at least once.  To make it more fashionable wear loose shapes with a belt, cardigans on one shoulder, and remember full looks are welcome this summer!
Accessories-wise, dad shoes are also keepers as well as more classic sandals and white sneakers of course and belt bags or large clutches. If you don't own a belt bag, you can make any of your small bag one by playing with different straps!
–
Suitting
Suits of all kind have been spotted on runways. Sophisticated, they also are intemporal and must have pieces. This season we like to wear them oversize, so if you don't have one just get one from your boyfriend/dad/brother's wardrobe and pair them with shorts! Also, you can never go wrong with a blazer and a pair of jeans.
–
Black, Greys, Beiges, Whites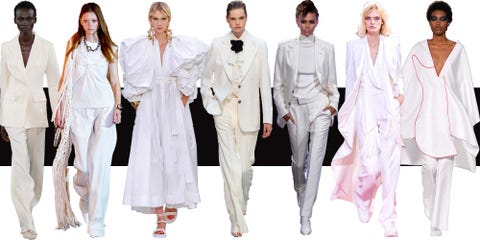 Intemporal colors are great! No only easy to wear and associate, they are the fundament of a minimalistic wardrobe. This season, we've seen mostly unicolor look such as full white or full beige.
–
Hope you liked it, and remember,